Alex Nuñez
Artist Quote
"Jumanji meets South Beach after-hours." – Alex Nuñez on summarizing her work
Student Bio
Javi Fernandez is a sophomore currently enrolled at Florida International University pursuing a B.A. in Math Education. A recently-found passion for creative media such as music, poetry, and visual art has led him on the path of Game Design, which he plans to begin pursuing in the Fall. He simply hopes to live a fulfilling life with the time to engage in creative projects, regardless of career path.
Biography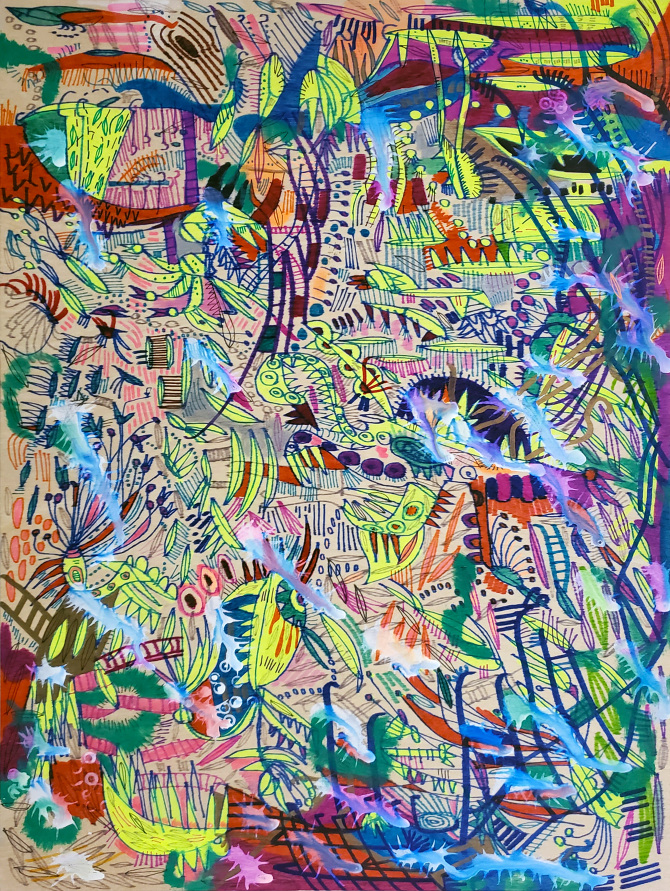 Alex Nuñez was born in Miami in 1984. "My grandmother introduced me to painting when I was about 4 or 5. I've been painting as long as I can remember." Dating back to her earliest memories, creating art has always been something dear to Nuñez. "We could compete for wall space at my parents' home," she explained.
Ever since childhood, all the signs seemed to point at Alex Nuñez becoming a fantastic artist. She participated in art-related after school programs in elementary and middle school, and her parents and teachers encouraged her from the very beginning. Even her mom, a self proclaimed non-artist, has left a heavy creative mark on Nuñez. "She claims she's not an artist, but she would create these things for PTA meetings and she was very crafty. To this day I think that it has a lot of influence in the work I'm doing now."
Nuñez always knew she wanted to be an artist. "I studied communications in college, but all my electives were geared towards painting. I always knew." She obtained her B.A. from Loyola University in New Orleans in 2006; to say her next six years were fruitful would be a gross understatement. Nuñez's next single year consisted of six-month programs at Firenze Arti Visive and Metafora School of the Arts in Florence and Barcelona, respectively. She then relocated a fourth time to Tufts University in Boston, where she completed her post baccalaureate diploma. Finally, she obtained her M.F.A. from Hunter College in New York City, where she would stay until moving back to Miami in 2016.
Personal Identity
Nuñez is quick to identify the 80s and 90s culture she grew up in as having a notable influence in her work. The bright neon colors found in her paintings echo the "Nickelodeon palette" of the era. This influence is even more direct in the repurposed vinyl album covers from that era she often works with.
Nuñez also notes her experiences in education as influencing her work in many ways. Completing her undergraduate experience with a major in Communications and a minor in Psychology, she earned a lot of valuable experience working with graphic design, video, and photography, not to mention advertisements, which regularly find themselves in many of her collages. Nuñez recalls her thesis piece, "don't go chasing waterfalls," as being particularly reflective of her anxieties of life after education, and perhaps one of her most personal pieces to date. "Dark charcoal contrasted by iridescent pigment like light breaking up darkness … it gives this feeling of being shot out into the world, like 'what's all this leading to?'" Nuñez considers it her most immersive piece, having worked on it for over 8 hours a day every day for about 4 months.
Cultural Identity
Nuñez carries with her a rich background of studying in 6 different cities across 3 different countries. Growing up in Miami, she moved to New Orleans for her B.A., and followed up with prolonged stays in Florence, Barcelona, Boston, and New York City, the latter of which she lived in for nearly 9 years. When asked if she thinks of her work as a culmination of all these experiences: "I'd like to think so," she says. "It's hard not to be influenced by your environment." Even while living in such wildly different places, however, Nuñez still found herself drawn to her hometown of Miami, where she currently resides. Much of her work draws influence from Miami in the form of neon color palettes, eclectic depictions of nightlife, and lush, tropical environments. "Each work dissects and celebrates my Cuban-American heritage."
Nuñez draws lots of influence from abstract expressionists and stain painters. "The men of that time received a majority of notoriety; the art world slowly came around to the women of that time years later." She listed names like Helen Frankenthaler, Joan Mitchell, Lee Krasner, Elaine de Kooning and Sam Gillam, among others, as big inspirations, and it isn't hard to see how they influence her work. The bright splatterings of Mitchell and the chaos of Krasner combine with Nuñez's own flair to form something that is uniquely and completely her own.
Subject of Artwork
Nuñez creates under a bountiful source of influences, ranging from dreams, poetry, shows, or even memes. She summarizes her art perfectly as "a snapshot of pop culture," in which themes as heavy as feminism down to the littlest thing such as a Twitter meme can manifest itself in Nuñez's work. "I think of it as trying to describe earth to an alien," she told me. "Not like how a scientist would; it's as if we had to rebuild the world from scratch from merely observation." A description matching the vividity of her oeuvre.
Nuñez certainly doesn't shy away from tackling important issues, however. She holds a strong conviction that artists are morally responsible to confront the issues that matter, as art is one of the most accessible means to challenge issues of inequality in the present day. This is brought to life in her series "Diva," in which she alters album art from women musicians primarily from the 70s and 80s. "These women, often centered and staring straight out at the audience, possess a dominating glare… I want these pieces to depict energy portals that at times highlight areas of the subject matter and form masks that both conceal and reveal."
Ultimately, though, Nuñez just wants people to slow down. "My work creates immersive environments that draw the audience in, demanding engagement." She wants people to spend more time looking at art, while keeping it honest and approachable; there never needs to be some out-of-reach secret to uncover. On her goals for the future, Nuñez simply wants to maintain her engagement and drive to tread new ground. With a prolific and ever-expanding body of work, it doesn't seem like she'll be slowing down any time soon.
Formal Elements
"A trail is formed of personal hieroglyphics, a compilation of seemingly meaningless symbols form imagery that mimics nature," Nuñez elegantly wrote of her work.
"All formal elements share equal importance in my work," Nuñez explained to me. This is evident after looking at any one of her paintings: a smile-inducing splattering of bright colors and repetitive patterns creates a dreamlike state and hints at a carefree process. "My work is based on a constant intake of imagery, music, nightlife, nature, gossip websites, movies, magazines, crap television, endless YouTube searches, etc.," Nuñez wrote. Integral to her process is the setup of other media to be played at the same time, whether it be a movie, music, or both. These distractions introduce both a certain intuitive quality to her work and a subconscious influence from the content of Nuñez's choosing. "The process is equally important to the content for me," she explains. She loves to play with accidents, likening her process to clouds turning into shapes in the sky: natural, uncontrolled, and beautiful.
Exhibition History
Nuñez's work has been exhibited across North America and beyond, from California to Mexico to Puerto Rico to Barcelona. The C12 Emerging Artists exhibition in 2013 remains one of the most important shows to her. Nuñez's only solo exhibition to date, this show directly followed the C12 Fellowship award she won for her thesis in 2012. Nuñez points to the LA Biennial at El Musio de Barrio in New York as being a significant moment in her career having just emerged from grad school, as well as Locals Only in the Diana Lowenstein Gallery for being her first proper group show after her return to Miami. Nuñez also speaks highly of She Inspires and the Whitney Houston Biennial, two 2017 female-focused exhibitions in New York, where she fittingly presented enhanced vinyl artworks from her "Diva" series. "Contributing work to these shows felt incredibly important. There is a consistent lack of diversity in female representation by art institutions." Nuñez praised these shows not only for giving much-needed exposure to female artists of today, but also for being an opportunity to develop camaraderie between fellow artists.
Student Perspective
Talking with Alex Nuñez was an absolute pleasure. She offered valuable insight into the life of a career artist, but more than that she offered a glimpse into the life of one of the most interesting, innovative, prolific, and creative women I have ever had the joy of speaking to. She spoke very highly of the Ninth Street Women, some of her biggest inspirations and a group of artists who, despite being integral to the abstract expressionist movement and the modern art world as a whole, go largely underappreciated and unspoken about. It's very likely I would have never heard of influential names like Helen Frankenthaler and Lee Krasner had she not sung their relatively unsung praises. Nuñez's willingness to tackle important issues while consistently maintaining her carefree and spontaneous energy is something much needed in the world today. Her work only further cemented in my mind that masterpieces don't need to come exclusively through a calculated and methodological process, but rather from a genuine desire to explore, to express, and to create.
Works Cited
Hernandez, Jasmin. "In Conversation with Alex Nuñez: Celebrating Pop and R&B Divas in Her Feminist Collages." Gallery Gurls, Gallery Gurls, 24 Jan. 2018, gallerygurls.net/interviews/2018/1/23/in-conversation-with-alex-nuez.
"Meet Alex Nuñez." Voyage MIA Magazine | Miami City Guide, 13 Dec. 2018, voyagemia.com/interview/meet-alex-nunez/.
Munro, Cait. "15 Of Our Favorite Contemporary Artists Get Real About Making It In The Art World." The Top Young Female Contemporary Artists List, Refinery29, 8 Aug. 2019, http://www.refinery29.com/en-us/rising-female-contemporary-artists.
Nuñez, Alex. 1985, Nov. 2013, http://www.1985artists.com/artist/alex-nunez-artist.
Rodriguez, JC. "PROVK Magazine: Miami Art: Alex Nunez." Prvkmag, 12 Apr. 2018, http://www.provkmag.com/studio-visit-alex-nunez.