STUDENT BIO
Hi there! My name is Alfredo Bidopia and I am a junior studying Marketing with a certificate in Import and Export at Florida International University. I was born in Cuba, raised in Panama, and I have lived in the United States for five years. Something curious is that the three countries that I mentioned share the same colors on their flag. In my spare time, I like to paint, ride bicycle, and play guitar. I also love traveling and discovering new places. That is what motivated me to select the "Finding Miami" class. I hope that after taking this class I can see Miami from a wider perspective, and I can learn more about its history.
GEOGRAPHY
Palmetto Bay is a suburban village located in Miami-Dade County, Florida. This city extends from southwest 136th St to south west 184th St and expands east to Biscayne Bay and west to South Dixie Highway. According to the website, DBCity.com Palmetto Bay has an area of 8.73 square miles and an altitude of 39 ft. The climate of this city is tropical savanna. Using the US-1 route it takes 15 miles of traveling in a car to get from Palmetto Bay to the city of Miami. This area is home to an extensive park system, and it offers excellent public schools.
HISTORY
Palmetto Bay is a village full of history that goes back 10,000 years. According to the website palmettobay-fl.gov, this land was inhabited during different periods by Paleo-Indians, Tequestas, Seminoles, Afro Bahamians, and Anglo-Americans. There is evidence of the evolution in housing from these different cultures along the Miami Rock Ridge. At the Old Cutler Fossil Site in 1985, archeologists found human skeletal, and animal remains that dated back to the time Tequetas and other tribes inhabited the area. This site remains one of the most important archeological excavations in the eastern United States. Before this discovery was made, people thought that human habitation in Florida dated back only 4,000 years. The pieces excavated can be found now in the Historical Museum of Southern Florida and the Florida Museum of Natural History. The Tequestas vanished from South Florida at the end of the 1700s. They were hunters and fishermen, named by Ponce de Leon in his visit in 1513. In 1784 Spain regain its possession of Florida ending the American Revolutionary War. Then in 1821, the United States acquired Florida from Spain for $5 million. Later in the 1830s, the Seminole Indian Wars started because of the Indian removal policies President Andrew Jackson had imposed. In 1838, Dr. Henry Perrine was awarded by the government a big portion of land in South Dade. The dream of Dr. Henry Perrine was to create an agricultural colony based on subtropical plants. That is why he choose the ridge overlooking Biscayne Bay as he considered that was the best part of the land. Years after the death of Mr. Perrine, a dispute started over the land between his heirs and squatters. It wasn't until 1897 that the dispute was resolved. Francis and John H. Earhart were two settlers that established a farming community called "Franjo". The road that led to this community was called Franjo road and it still exists. Dr. William Cutler arrived in 1883 acquiring 600 acres of land. The Cutler town grew fast, capturing the attention of Henry Flagler. Flagler intended to bring his railroad to Miami going from South Dade to Key West. The route he was planning was supposed to go through the town of Cutler which would have cost a hindrance for the steady development of the town. Years later Charles Deering bought inactive land from Cutler to build his residency. He built a mansion in the ridge overseeing Biscayne Bay, what is known today as Deering Estate. This place protects its grounds because of its environment and historical importance. Inside the Estate the Richmond Inn is the only one remaining construction of the town of Cutler. This place remains as one excellent example of Florida frame-vernacular architecture and it is listed in the National Register of Historic Places. It wasn't until September 10, 2002, that Palmetto Bay became the 33rd municipality of Miami Dade.
DEMOGRAPHICS
According to the United States Census Bureau, Palmetto Bay holds from July 1, 2019, a population of 24,523 people. However, the estimated base population from April 1, 2010, is 23,413 individuals. The white alone, not Hispanic, or Latino population in this place has a 42.1% and the largest population comes from Hispanics or Latinos with 46.6%. Asian alone possess 4.8% and the population for Black or African American alone is 3.7%. From 2015 to 2019 the population of Veterans was 761 individuals and foreign-born people are part of 31.9%. An interesting fact about the housing in this area is that the owner-occupied housing units from 2015 to 2019 cover 80.7% and the median value of owner-occupied housing units is $562,300. The median gross rent in this area from 2015 to 2019 was $1,426. In the Palmetto Bay area, the total amount of households is 7,459 and the average amount of people per household is 3.26. An incredible 50.1% of individuals in this area speak other languages at home aside from only English. In the education sector, there is a 94.8% graduation rate either from high school or higher level of learning of people age 25 years or older, but only 58.5% have a bachelor's degree or higher. The median household income from Palmetto Bay is $123,477 and there is only a 5.7% percent of poverty. Other than numbers, I was able to learn a little more about Palmetto Bay thanks to my fellow classmate and friend Carlos Poblete. He was originally born in Kendall, but a few years ago he moved to Palmetto Bay. He tells me that one of his favorite places is Coral Reef Park, there are tennis courts, open fields, and a path people can walk the entire park. He also told me it is a nice place to live because he feels safe and comfortable while he rides his bike every weekend. There is a good amount of population but, he tells me it is not as overwhelming as living in Kendall or Downtown. I asked him if he was planning on moving away because he lives with his parents and he said that so far, he likes it, but when the time comes, he doesn't know how smart it might be renting something in the area because of the expensive prices.
LANDMARKS
Perrine Community House
One important landmark in Palmetto Bay is the Perrine Community House. According to the website Miami's Community News the house was built in 1935 and it served as the municipal headquarters of Palmetto Bay. It was also used frequently for meetings of Chamber South and other organizations. This place was recently renovated, new floors were installed, the walls were fixed and repainted to achieve a better place for a series of events that are being planned. Currently, the house works as an exhibition center that features local artists. There is an exhibition every 3rd Saturday of the month. According to the article Perrine Community House on August 17th Alexander Porto will be having a display at this place of his latest work.
Thalatta Estate Park
Another important place in the community of Palmetto Bay is the Thalatta Estate Park. This amazing place offers incredible views of the immaculate waters of Biscayne Bay. According to the article Thalatta Estate Park, the vintage residence was built by the Connett family. The architectural style the house offers is Mediterranean-Revival similar to Deering Estate which is up north. Attributes that contribute to the significance of the house are symmetrical facades, doorways emphasized with pilasters, decorative Cuban tiles, and many more things. In an effort to preserve this incredible landmark, it was acquired by Palmetto Bay in 2005. This happened because of the fear a private developer wanted to demolish the house to make a mansion on the bay.
Deering Estate
Deering Estate is a place full of history that is also dedicated to protecting natural ecosystems and wildlife. According to the website deeringestate.org, this place has one of the most diverse natural resources in Miami-Dade County. It has 8 ecosystems, 120 acres of pine Rocklands, and one of the richest sources of the earth's biodiversity. Thanks to Deering Estate's protected zones, ecosystems and wildlife can be studied by specialists. There are important plants that live on this site like, ferns, orchids, and more than 40 types of trees. This place is also home to gray foxes, snakes, birds, squirrels, and butterflies. Deering Estate is part of the Atlantic Coastal Ridge and it stretches from the Everglades following the coast to New York. Portions of this ridge work as a barrier between the interior basin of the southern Florida peninsula and Biscayne Bay. This is an incredible place that represents the history of Miami and the beauty of its environment.
GREEN
Coral Reef Park
Palmetto Bay is full of incredible parks. One of them is Coral Reef Park because of the 50 acres of open green spaces it offers. In this park, we can also find pinelands reserved areas and a streaming canal. This park is excellent almost for everybody because it is home for people that like walking, relaxing, playing sports, reading, and many more things. We can also find a diversity of wildlife, including indigenous birds.
Ludovici Park
What makes Ludovici Park so great is the versatility of enjoying reading a book and being an awesome venue for musical performances. Inside the park, we can also find the Palmetto Bay Branch Library which is composed of 5,0000 square feet. This place also works great for hosting small parties thanks to its incredible spaces and venues.
Palmetto Bay Park
The Palmetto Bay Park offers a variety of basketball courts, a softball complex, and more. This park is meant to be a multi-recreational facility. An interesting fact about this place is that it transitioned from 5 acres to 25 acres. It can be found east of the Village Municipal Complex. Previously it was known as the Perrine Park, but it was renamed Palmetto Bay Park back in 2006.
TRANSPORTATION
In the area of Palmetto Bay, most people have their own car, this is something common in the County because of the long distances and the lack of development in public transportation. According to the website DATA USA, 77.1% of individuals drive alone, 12.3% are carpooled, and the other 6.71% work at home. The other type of transportation that follows this list is public transportation. In general, public transportation in Miami-Dade County is not the best. That is why the percentage of people driving is so high. The least used way of transportation in this area are taxis. I suppose this occurs because of the high rates taxis can charge. In Palmetto Bay the average commute time is 34.7 minutes. This means that the average Palmetto Bay employee has a longer commute time than a normal United States worker. Plus, 3.51% of the works of this area have super commutes that exceed 90 minutes. Most of the households in Palmetto Bay have 2 or 3 cars.
FOOD
Alaine's Osteria
The first time I saw this Italian restaurant was on my way to Deering Estate. Usually, when I am looking for a new place to eat, I tend to do a little research first to see if it is worth eating in that place. Well, when I got home from Deering Estate, I did my research on this restaurant and I was amazed by the incredible reviews it has. The restaurant is represented by chef Gustavo Rivera. He spent five years working with Marriott International earning different promotions like supervisor manager, assistant sous chef, and sous chef. The restaurant is acclaimed for the proximity it has to real Italian food.
Babe's Meat & Counter
Babe's Meat & Counter is a few blocks away from Coral Reef Park. This restaurant is relatively new because it was founded in 2018. Melanie and Jason Schoendorfer started as local farmer market. They worked hard enough to open their brick-and-mortar location. They have an incredible variety of sandwiches either for breakfast or lunch. This place has great reviews saying how good the food is and how big the portions are.
Pig Floyd's BBQ
Also, near Deering Estate we can find this place, or should I say pop-up BBQ bus. As the name says it Pig Floyd's BBQ is a restaurant that serves the old way of doing BBQ. In their website pigfloyd.net, they claim their style of cooking, the old way, can't be matched or compared with any other method or technology. They also claim to have the best Brisket, Pulled Pork, Wings, and Roasted pig you can eat on Earth. They state to only use the best smoking woods available
BUSINESSES
GMSTEK
GMSTEK is a company composed of a group of talented engineers that have come up with innovative technology in the world of business and aviation. They offer smart solutions thanks to their experience and capabilities. According to gmstek.com one of their products is the X-1FBO Ecosystem which is a management and payment processing system. They wanted to create a platform that is simple to use and learn. They also offer a tool called Payment Processing Development. This includes updated authorization to find new ways in making your customers accept payments.
Bison Tattoos & Piercings
This tattoos & piercings shop has been offering its services since 1990. I think it is awesome they have been open for such a long time and that they are able to represent the artistic side of Palmetto Bay. They offer different styles of tattooing like bold color, fine line, and black n grey. This tattoo shop also offers military, birthday, and many more discounts. Apart from tattooing they also do piercings. This shop can be found near Palmetto Bay Park.
Hero Martial Arts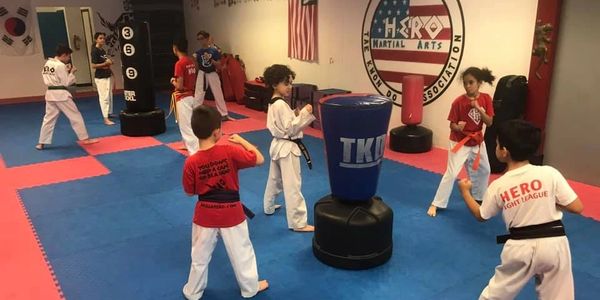 Hero Martial Arts was founded by Master Luis Cocco and his wife in 2008. This offers Taekwondo programs for kids, teens, and adults. Master Cocco has been teaching Traditional Taekwondo and Olympic Taekwondo in Miami for 25 years. For over a decade, Master Cocco was a Head Instructor at Lee's Taekwondo. Classes are taught by highly skilled instructors. Master Cocco is a United States Taekwondo level 2 coach, and he has led students to National Championships.
SUMMARY
Miami-Dade County offers a great selection of neighborhoods, without a doubt Palmetto Bay is one of them. In this city, we can find a great history that represents how the city was made. We also have historical places like Deering Estate that contribute to continuing helping ecosystems and wildlife. One downside from this area is the public transportation and how much individuals must commute to get to a place. However, I think Palmetto Bay makes up for it with its green places that are spacious and have multi-recreational purposes for everybody. The food is also good in this neighborhood, but I would say it is lacking more unique restaurants that are not franchises. There is also a big diversity in businesses and most of them have been in the area for a while now. In conclusion, I think Palmetto Bay is a great area to live in and I think it is worth visiting mostly for its landmarks and green spaces.
CITATIONS
"Palmetto Bay, Miami-Dade, Florida, United States – City, Town and Village of the World." DB, en.db-city.com/United-States–Florida–Miami-Dade–Palmetto-Bay.
"History of Palmetto Bay: Palmetto Bay, FL." Village of Palmetto Bay Florida, http://www.palmettobay-fl.gov/681/History-of-Palmetto-Bay.
U.S. Census Bureau QuickFacts: Palmetto Bay Village, Florida. http://www.census.gov/quickfacts/palmettobayvillageflorida.
Gary Alan Ruse, et al. "Remodeled Perrine Community Center Reopens with Art Event." Miami's Community News, 1 July 2019, communitynewspapers.com/featured/remodeled-perrine-community-center-reopens-with-art-event/.
"Perrine Community House: Palmetto Bay, FL." Village of Palmetto Bay Florida, http://www.palmettobay-fl.gov/1071/Perrine-Community-House.
"Thalatta Estate Park: Palmetto Bay, FL." Village of Palmetto Bay Florida, http://www.palmettobay-fl.gov/281/Thalatta-Estate-Park.
"Conservation." Deering Estate, 3 June 2020, deeringestate.org/conservation/.
"Coral Reef Park: Palmetto Bay, FL." Village of Palmetto Bay Florida, http://www.palmettobay-fl.gov/213/Coral-Reef-Park.
"Ludovici Park: Palmetto Bay, FL." Village of Palmetto Bay Florida, http://www.palmettobay-fl.gov/222/Ludovici-Park.
"Palmetto Bay Park: Palmetto Bay, FL." Village of Palmetto Bay Florida, http://www.palmettobay-fl.gov/230/Palmetto-Bay-Park.
"Palmetto Bay, FL." Data USA, datausa.io/profile/geo/palmetto-bay-fl/#about.
Alainesosteria.com, http://www.alainesosteria.com/?page_id=10.
"Babe's Meat & Counter." Babes Meat Counter, babefroman.com/about/.
"Pig Floyd's BBQ." Pigfloydbbq, http://www.pigfloyd.net/.
"FBO Software: GMSTEK, LLC: United States." GMSTEK, http://www.gmstek.com/.
Webmaster. BISON TATTOOS – WHAT WE DO, http://www.bison-tattoos.com/whatwedo.htm.
Hero Martial Arts. "Be Strong & Confident Learn Martial Arts." Hero Martial Arts, areuahero.com/about-us.