Student Bio
My name is Lauren Farina. I am a junior in the Florida International University Honors College, majoring in Biology, minoring in chemistry, with a certificate in Women and Gender Studies. My ultimate goal following my undergraduate education is to attend PA school, hopefully here, at FIU. Besides my goals in the health profession, in my free time I like to paint, foster kittens, volunteer with Habitat 4 Humanity, and spend quality time with family and friends. I joined Bailly's study abroad class to Italy to explore my roots and travel in a unique and educational way. I hope to be able to continue this journey in 2021.
Geography
Fort Myers is on the southwest coast of the state of Florida, located just along the Caloosahatchee River. It is closely associated with Florida Gulf Coast University which created the nickname of "Dunk City". The nearest well-known city is Naples. The downtown area of Fort Myers is quaint and mostly enjoyed by the snowbirds and tourists. It's mostly made up of small businesses and statues by local artists. It is situated right on the water where boats are going in and out all day, which creates an exciting view from some restaurants and hotels. Fort Myers is probably most known for its beach. It is one of the hot spots for spring breakers and a classic day out for residents. The area around the beach is like its own little town with souvenir shops, ice cream parlours, hotels, and restaurants. The main entrance onto the beach is met with a long, tall pier that many visit for sunsets. The beach itself has been in the media for a few years now because of a lack of control regarding the algae blooms. When the beach is clean and healthy, it is packed, with hardly any space between towels. Getting to Miami or Tampa is fast (<2 hours) and easy (1 main road) using either US 41 or I-75.
History
Fort Myers was initially a base for the Seminole Indian Wars, and then for the Civil War. Following the Civil War, the fort reinvented itself into a town of about 10 founding families. Cattle farming and logging were the most popular labor forms at the time. At this point in history, population growth was slow and resources were scarce. In 1885, Thomas Edison came to Fort Myers for the first time, and was apparently pretty impressed because he built himself a winter home. This became the first real population growth in Fort Myers. After many years of friendship and visits to Fort Myers, Henry Ford also decided to build his own winter estate attached to Edison's. This is now one of the most important and populated landmarks in Fort Myers, and will be discussed in further detail later on. A few years later, US 41 was established through Fort Myers, and population continued to rise through the 1920's until the devastations of the 1930's. The Great depression affected Fort Myers just as it had affected the rest of the country. When the economy began to return to normality in the 1940's, Fort Myers had established two airfields that were leased by the federal government for World War II as Air Force bases. They are now known as Buckingham Airfield and Pagefield. Buckingham is now a base of operations for Lee County Mosquito Control, while Pagefield allows for private flights and flight relief from the international airport here, RSW. Over the following 60+ years, Fort Myers has grown tremendously in population with no signs of slowing down. It is typical for northerners to have winter homes here, just as Edison and Ford did.
Demographics & biography
According to the US Census Bureau, white people make up about 64.16% of the population, African Americans make up about 23.77%, Asians make up 2.75%, and the other 7.27% identify as "other". The population consists of upwards of 82,000 people, with women and men equally represented. A bar graph showing the age demographics of Fort Myers is below.
Biography of John & Fay Farina (Fort Myers residents for 25 years)(Also my grandparents for 19 years)
John Farina was born on November 21, 1942 in Brooklyn, NY. Fay Farina was born 7 days later, that same year in Farmingdale, NY. They met in high school and got married 6 years later, in 1966. They had two children: a daughter, and a son (my father). After their children moved out, they made the decision to leave New York for retirement life in Fort Myers, Florida. They have spent the last 25 years in Fort Myers.
How did you decide to move to Fort Myers?
John: "A friend of ours told us about this beautiful island down in Florida called Marco Island, so we decided to go down and see for ourselves… then we bought ourselves a winter home which we visited all the time for many years. We realized we loved it so much and we wanted to find a permanent home in Florida. We chose Fort Myers!"
What is the best part about living in Fort Myers?
John: "The weather, for sure. We couldn't handle the cold and the snow anymore. We love the sunny days and warmth here."
Fay: "Family! We are finally all together in one place and, for many years, it wasn't like that. I'm grateful that we're all together again."
What is the worst part about living in Fort Myers?
John: "Neighborhoods aren't quite the same. There are a lot of rules here, as opposed to in New York."
Fay: "There is a lot of construction in Fort Myers and it's taking over the greenery."
What has changed the most in Fort Myers since you moved here?
John: "The weather has gotten much warmer over the last 25 years. Also, the traffic has gotten worse. The population has grown so much that it's "rush hour" all day."
Landmarks
Edison & Ford Winter Estates

The Edison and Ford Winter Estates is the most prominent landmark in Fort Myers. People can go anytime of the year to tour the homes of Thomas Edison and Henry Ford, but the absolute best time of the year is winter. The homes and the surrounding property are eloquently decorated with lights and holiday decorations. The connected homes are a family favorite during the holiday season. There are many different tours to choose from- including a self-guided, automotive, lab, and "inside the homes". Whether you go to see the lights and the incredibly large and decorative homes, or you really want to immerse yourself in the rich history of the homes and their late inhabitants, there is an option for you at the Estates. A standard tour during the holiday season will take visitors around the Edison home with sneak peaks of the rooms through large windows, through the garden and pool area, the guest/caretaker house, across a small bridge to the Ford estate where one can catch glimpses of his rooms through windows, and the Ford guest house. Visitors will learn about the friendship that Edison and Ford built which ultimately led to them connecting their winter homes in Fort Myers. They will also learn about their individual inventions and what inspired their ideas. It can be a historical landmark to some, and just an enjoyable day out to others, but either way it is revered by Fort Myers inhabitants and visitors.
IMAG History & Science Museum
The IMAG History and Science Museum is well-known to residents of Fort Myers. Anyone who grew up here in the last 25 years probably went there as a kid, whether it was for a summer camp or a day at the museum. It features exhibits with aquatic animals, reptiles, amphibians, birds, and other local wildlife, for the education of the environment that surrounds us. There are also historical exhibits that showcase models of what Fort Myers looked like in the 1800's and early 1900's. There are reconstructions of the army bases that were located here as well. Most kids find fun in the interactive science exhibits in the main area of the museum. These interactive installations include puzzles, games, weather simulations, and other hands-on ways to learn about science. It is a great place to bring kids for educational fun. The museum aims to educate the public about their local surroundings through science and history displays and interactions.
Downtown 24 bronze sculptures (that have now been dispersed across Fort Myers)
Anyone who has been to downtown Fort Myers will recognize these bronze sculptures. There were originally 24 of these scattered in the downtown area. In May of 2019, it was decided that 16 of the sculptures would be moved to other older areas of Fort Myers, like McGregor Blvd. Whether all together or spread apart, these sculptures are eye-catching. When you are downtown, you are bound to see tourists taking pictures of, and with, the sculptures. They depict all different random tasks from walking a dog to playing a game of chess, leaving the purpose of these art pieces up to viewers!
Green Spaces
Lakes Park
Lakes Park is a family-friendly park that includes multiple playgrounds, nature trails, and kayak and paddle boat rentals. It's free admission, but you do need to pay for hourly or daily parking. It's $1 per hour and $5 for the day. The pavillions there are often rented out for birthday parties or family get-togethers. People often bring picnics and sit in the grass or bike ride through the trail. It's a great place to spend the day outdoors with lots of different activities to explore. There's even a butterfly garden within the park!
Fort Myers Beach
Fort Myers Beach is the #1 tourist attraction in Fort Myers, especially during Spring Break . It is known for the pier that goes along the water right at the main entrance of the beach. This is the hot spot during sunrise and sunset everyday. Also right along the beach entrance are a few restaurants, ice cream places, and even henna tattoo shops. It is of course a tourist-heavy area, but locals definitely love the fun and lively nature of this beach. Sanibel Island is the other closest beach, which has the quieter beaches, but is also beloved by locals. The beach you should go to depends on the type of beach day you want to have!
Six Mile Cypress Slough Preserve
The Slough is a really amazing nature preserve that has boardwalks throughout to allow visitors to explore the natural environment that is quickly being diminished in growing cities like Fort Myers. There is no admission cost; only a parking fee of $1 per hour or $5 for the day. It is typical for residents of Fort Myers to ride their bikes over to spend the day to avoid this fee. Often, visitors can spot turtles, alligators, otters, and a plethora of species of birds.
Transportation
LeeTran
Leetran is the government-sponsored public transportation system in Fort Myers. There are 24 different routes that the bus system operates within the city limits. It costs $1.50 for each entry onto the bus. There are discounts for passengers 65 and older, those with a disability, and full-time students. There are also a variety of passes that can be purchased that are, in some cases, more cost-effective. Among those options are an all-day pass and a week-long pass.
Fort Myers Beach Trolley & Tram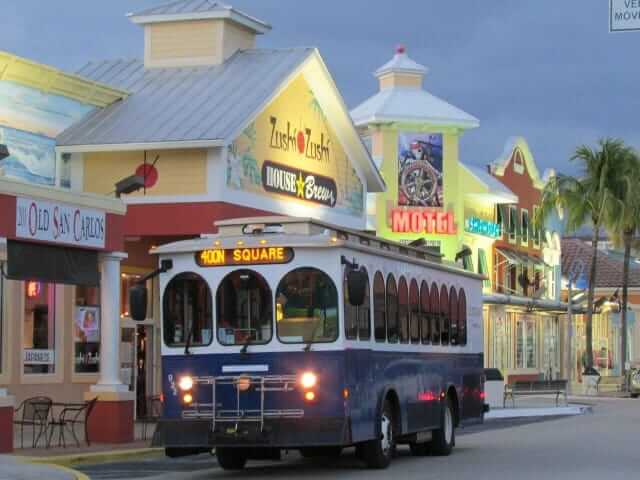 The trolley has 7 pick-up/drop-off spots that are closer to the beach area of Fort Myers. People can park their cars at the free parking lot to board the trolley or ride their bikes, which can be attached the the trolley. The cost is 75 cents a ride, $2 for an all-day pass or $4 for a 3-day pass. It operates from 8am to 11:30pm 7 days a week.
Food
Bullig Coffee & Bites
Bullig Coffee & Bites opened in June of 2018. They are located in downtown Fort Myers and have the cutest bulldog themed coffee and breakfast shop! They serve all kinds of special waffles and sandwiches. Not to mention their coffees that can come with all kinds of sweets on top. They have plenty of gluten-free vegan and vegetarian-friendly options which makes it a great option for anyone. They also use paper straws, so they do their part in being environmentally-friendly. It is the perfect place to meet your girlfriends for brunch or have a cup of coffee with your parents. It's also located right next to the Butterfly Estates which can be your next stop after a delicious breakfast!
Trattoria Mia
Trattoria Mia has to be my favorite dinner spot in Fort Myers. The atmosphere is classic high-end Italian, with the aromas of sauces and breads cascading throughout the restaurant. It features real authentic Italian meals that are to die for. The best appetizer is the bruschetta. Something about the balsamic vinaigrette dipping sauce heightens this bruschetta to a level that I've never tasted before- and I've had my fair share. They have every pasta you could dream of, including gnocchi. Desserts are a must! Don't tell yourself that you're too full because you are cheating yourself out of perfectly creamy sorbet or a dreamy tiramisu.
Love Boat Ice Cream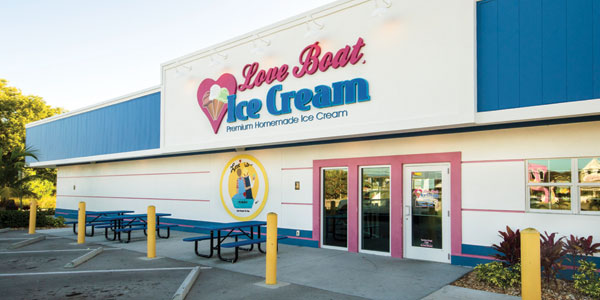 Love Boat is a locally-owned, one-of-a -kind ice cream shop that opened in Fort Myers in 1967 and has been a staple for locals ever since. The flavor options are extensive with many different types of cones to choose from as well. I've lived here 10 years and still haven't tried every flavor and cone. The best time to go here is after a hot beach day or right before going to sunset on the causeway. It's also a popular picture spot because of the famous mural on the front.
Businesses
Mario's Italian Meat Market

Mario's is a staple for Italians in Fort Myers. They have a vast selection of meats, italian appetizers, and desserts ready to be cooked and/or eaten. The rest of the market is typical Italian ingredients- canned tomatoes, fresh basil, and the biggest selection of pastas in the city. You can go to eat there for lunch and have a meatball parm or call in an order to bring home. The employees are beyond friendly and helpful and it makes supporting this small business even more important.
Sun Harvest Citrus
Sun Harvest is a market for all things citrus! Whether you're looking for a key chain, a T-shirt, or some really delicious juice, you can find it here. You also can't leave without trying their orange vanilla swirl ice cream. They are most famous for their juices, however. My personal favorite in the cranberry orange, but you really can't go wrong with any of them. You can get free samples of all of them in the store to decide which one you have to buy for home. It's best to visit after a hot day outside. Nothing beats the cool juice or sweet ice cream to refresh your body.
Masters Designs
Gene Esposito owns a small local shop that specializes in everything from hemming a prom dress to making you your own custom swimsuit. He is truly a master of his craft. He has been tailoring clothes for over 40 years and I would say he is an expert like no other. If you ever need ANYTHING tailored, fixed, or made in the clothing department, this is your guy hands-down.
Summary
Fort Myers is definitely more intricate than an outsider may think. For a long time, I even thought it was dull and lacked any unique traits. Looking back on this project, I can see the relationship I've formed with this city over the last ten years. All the small places I've discovered with my friends and family that still bring me joy to this day. Oh, how I wish I could have a beach day with my friends and stop at Love Boat after or go to dinner with my family at Trattoria Mia right now. Covid-19 has unfortunately made so many of these joys unattainable right now.
Probably the best feature about Fort Myers as a whole is its connection to nature. Between the beaches, the nature preserves, and parks in the area, I would argue that you have to enjoy spending time outdoors to live here. Yes, it is unbearably hot during the summer months, but the rest of the year is so worth it. The beaches are beautiful and bring people together year-round, with sunsets being a classic outing for anyone in any age category. The many trails through forests and swamp land in Fort Myers are keeping our natural environment in tact and allowing visitors to remember its importance. These factors make Fort Myers somewhere that people can appreciate the world around them.
The biggest qualm that people seem to have with Fort Myers over time is that there isn't a lot to do. It can get repetitive at times. It feels silly typing this in a time where we're all locked up and would do just about anything to go back to the times before Covid-19. The typical hangouts for teens and young adults are the movie theaters, beaches, or bowling alleys. Those go in rotation for the four years you spend in high school and you're about over it.
Fort Myers could benefit by adding more things for young people to do here. While it seems like the population is dominated by older people due to the snowbirds, the young people actually make up the same amount of the population. Since moving to Miami, I feel like I'll never have enough time to do everything Miami offers. From escape rooms to Wynwood Walls to the endless events going on on every corner. I wish Fort Myers offered more of that opportunity and community involvement.
Overall, I think Fort Myers is worth a visit; maybe not the #1 option to live, but certainly worth a weekend or two. Following this guide, you could hit a lot of the best spots in town and not have missed much else. The only other recommendation I would give would be to definitely take the hour ride to Sanibel Island. It is unmatched in the continental U.S. Fort Myers has its faults, but overall it has its charm and unique places that do make it special.
Citations
Boeuf, Jean Le. "Bullig Coffee & Bites in Fort Myers Is Adorably Delicious – JLB Review." Press, The News-Press, 30 Aug. 2018, http://www.news-press.com/story/life/food/Jean-Le-Boeuf/2018/08/30/fort-myers-restaurants-bullig-coffee-bites-review-menu-hours-best-vegan/1124513002/.
Esposito, Gene. "Home: Masters-Designs." Masters Designs, www.masters-designs.com/.
"Fares & Passes." Lee County Southwest Florida, www.leegov.com/leetran/fares-passes.
"Fort Myers Beach Trolley & Tram Info." Fort Myers Beach Chamber, www.fortmyersbeach.org/trolleyinfo/.
"Fort Myers Museums, Attractions, Things To Do: Edison Ford Winter Estates." Edison and Ford Winter Estates, www.edisonfordwinterestates.org/.
"Fort Myers, FL." Google Maps, Google, www.google.com/maps?q=google%2Bmaps%2Bfort%2Bmyers&um=1&ie=UTF-8&sa=X&ved=2ahUKEwj2idPyhuvoAhVkneAKHXJ8BOkQ_AUoAXoECA0QAw.
"Fort Myers, Florida Population 2020." World Population Review, worldpopulationreview.com/us-cities/fort-myers-population/.
G., Haley, et al. "Bullig Coffee & Bites – Fort Myers, FL." Yelp, 22 Oct. 2019, www.yelp.com/biz/bullig-coffee-and-bites-fort-myers?start=20.
Hall, Tom. "Buckingham & Page Army Airfields Memorial." ArtSWFL.com, www.artswfl.com/public-art-2/fort-myers-river-district-public-art-2/buckingham-page-memorial/buckingham-page-army-airfields-memorial.
"The History of Fort Myers." Fort Myers Chamber of Commerce, 2020, fortmyers.org/live-in-fort-myers/history-of-fort-myers/.
"Home." Love Boat Ice Cream, loveboaticecream.com/.
The Imaginarium Group INC. "The IMAG History & Science Center: Fort Myers, Florida." IMAG, 30 Mar. 2020, theimag.org/.
"Italian Market – Fort Myers – Mario's Meat Market and Deli." Marios Meat Market and Deli, 15 Apr. 2020, mariosmeatmarket.com/.
Messina, Tom. "The History of Downtown Fort Myers." Downtown Fort Myers River District, 2020, downtownfortmyers.com/the-history-of-fort-myers/.
Ojo, Joseph. "Controversial Sculptures in Downtown Fort Myers Could Be Moved." NBC2 News, May 2019, www.nbc-2.com/story/40415420/controversial-sculptures-in-downtown-fort-myers-could-be-moved.
"The Preserve." Slough Preserve, www.sloughpreserve.org/preserve.
Runnells, Charles. "Popular Fort Myers Statues Leaving Downtown, Moving All over the City." News-Press, The News-Press, 3 May 2019, www.news-press.com/story/entertainment/2019/05/03/popular-fort-myers-statues-leaving-downtown-moving-all-over-city/3617757002/.
"Sun Harvest Citrus." Search Fort Myers, 11 Sept. 2018, searchfortmyers.com/directory/listing/sun-harvest-citrus.
U.S. Census Bureau. "Fort Myers City, Florida." Census Bureau QuickFacts, www.census.gov/quickfacts/fortmyerscityflorida.