STUDENT BIO
My name is Joheily Rodriguez, and I am pursuing a B.S. in Biological Sciences at Florida International University through its Honors College. Through this class, I learned more about myself; I discovered my interest in the arts. After graduation, I am pursuing medicine and becoming a physician. I love to explore Miami and its mixed culture and dishes. Living on campus and exploring Miami has been an inspiring experience filled with spontaneity and vibrancy. This semester, I choose to focus on the Urban neighborhood of Brickell, Fl, it's past, present, and future, hoping to highlight its authenticity so that others can see it as more than the financial center of the city of Miami.
GEOGRAPHY
Brickell, Florida is an urban neighborhood packed with diversity and innovation in downtown Miami, Florida. The community obtained its name from one of the first few families that settled in the area and drove the improvement and development of the site. The Urban area coordinates are 25.7602° N, 80.1959° W, and it expands on an area of 0.98 square miles. This community is 10 miles from Miami Beach and 13.2 miles away from Biscayne Bay. Brickell is known as the financial center of Miami, full of luxury and style. This area is full of condominiums and places to shop. Green spaces such as a bayfront park, The Miami circle park, and the Mary Brickell Park catered to parents, pets, and children for leisure.
HISTORY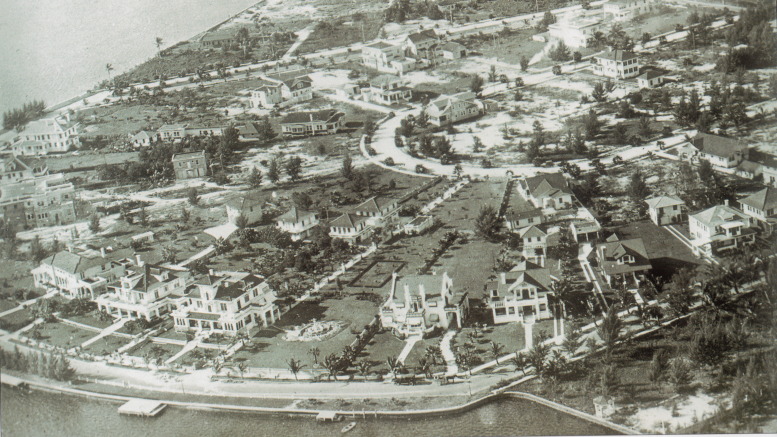 The story of Brickell started about 150 years ago, in the 1800s. The first inhabitants of this neighborhood were the Tequesta Indians, who were believed to have lived in South Florida for nearly 2,500 years. In 1871 the large Brickell family made their way down to South Florida. The Brickell's are one of the earliest families to have ever been recorded to acquire a home and a trading post. Soon the family started to obtain thousands of acres of land through the state laws, which they sold to new families moving down South. However, the family's vast real estate did not boom till Henry M. Flagler's brought the Florida East Coast Railway to Miami in April 1896. After the arrival of the Railway, the Brickell's started selling and leasing properties along what is now Brickell's Avenue and Points East. Most families that bought land were of wealth, and soon the avenue became the "Millionaire's Row," full of houses with the Mediterranean and Beaux architecture styles. In 1930, the Depression struck and caused a lot of homeowners to subdivide their homes, and soon rooming houses were famous. In late 1970 the old Millionaires Row was given away to tall condominiums and skyscrapers; Brickell was changing. This paved the way for where Brickell is today, a place full of condominiums, hotels, financial services, and expensive restaurants.
DEMOGRAPHICS
According to City-Data, the population in Brickell in 2019 was 17,991. The ethnic group comprises primarily Hispanic individuals, whose population accounts for 60.0%. The rest accounts for 20.4% white, while Asian is 2.8%, while black alone is 2.6%. The neighborhood age range is unevenly distributed. In Brickell; (11.0% )of the population was found to be over the age of sixty-five, (77%) of the population falls between the ages of eighteen and sixty-five, while (4%) of the population is between the ages of ten and eighteen years of age; lastly, (9.0%) of the population was under the age of ten.
Interview with Solange
Joheily: How long have you lived in Brickell?
Solange: "I have lived in this area for about two years."
Joheily: What do you think of the area?
Solange: "Personally, it's a lifestyle here. People are very innovative and calm at the same time. Moving here helped me have an open mind about the things I ask and then receive because people are so giving here. I also believe they have more access than other neighborhoods."
Joheily: What is your Favorite thing about Brickell?
Solange: "My favorite thing about Brickell is the amenities that each building has. I enjoy how each building can look very similar on the outside but very different once inside. The architecture here is competitive and stunning."
Joheily: What is your least favorite thing about Brickell?
Solange: "My least favorite thing is the constant construction on each street; it makes it hard to navigate on foot or with transportation."
LANDMARKS
The Freedom Tower
The Freedom Tower is a historic landmark that has been standing since 1925. This tower holds a special place in the Cuban American community, as it became a symbol of the ideals of America at the time. This tower served as a passage to those that sought freedom and liberty. From the 1960s to 1975, it served as an assistance center for Cubans and Refugees fleeing from Castro's Communist Regime. This act caused an increase in Cubans in Miami, which led to the transformation we see today, especially in the introduction of Spanish Culture and language.
Address: 600 Biscayne Blvd, Miami, FL 33132
The Torch of Friendship
The torch of friendship is a monument in Brickell, Miami, made in 1960. The city of Miami dedicated the Monument to "the everlasting friendship of our neighboring countries" this served as a friendly welcome to immigrants migrating from neighboring countries. This Monument contains another significance: the remembrance of the most beloved U.S president, John F. Kennedy, who had passed away from an unsolved attempt. An interesting thing about this site is that various peaceful and anti-war protests are held here.
Address: 301 Biscayne Blvd, Miami, FL 33132
Section of the Berlin Wall
From 1961 to 1989, The Berlin Wall was a symbol of separation and oppression; The wall divided many families, friends, and communities that hoped to one day reunite. On November 9, 1989, Hopes became a reality when the wall was breached, and that day, democracy claimed victory over communism. Miami is a unique place with a quilt of culture and history. In 2004 Germany donated a piece of the Berlin wall to Miami-Dade College to serve as a remembrance of those who fought for freedom and unification.
Address: 135-199 NE 3rd St, Miami, FL 33132
GREEN
Bayfront Park 
Bayfront Park is located at 301 Biscayne Blvd, Miami, FL 33132. Bayfront Park, or its former name Royal Palm Park, was one of Miami's first public gathering places. The park was built in 1896 and served the surrounding urban community. It is a park with a few hills and lots of greenery where you and your family can enjoy a relaxed day looking at the water or exercising.
Miami Circle Park 
The Miami Circle Park is located in Miami, Fl, at 33133 Brickell Point. It is an archaeological site that served great importance for the first settlers, the Tequesta. It is believed to have been built between 500 BC and AD 900, where sacred ceremonies and burials were conducted in this 38-ft- 11 m circle. Now, this Historic landmark serves as a dog park. Here pets and owners can enjoy their time and interact with other pets and their owners.
Mary Brickell Park 
Mary Brickell Park is located at 501 Brickell Avenue, Miami, Florida 33131. The Mary Brickell Park is classified as an archeological site and a historic site. Brickell Park is significant as it once had a pre-Columbian cemetery and village that dates back to 500 BC. There is a lot of open space and green areas surrounded by places to eat and, more importantly, a playground for the children. The Brickell family donated this small amount of land to Miami to serve as a public park.
TRANSPORTATION
The average car ownership is 1.7 cars. Brickell's population is considered a commuter community, with 18% of its workforce traveling out of the community for about 30-35 Minutes to work. The area of Brickell's most common commute in 2019 was Driving alone, which accounted for (64.8%), followed by Walking(16.1%), those that worked at home (9.6%), taking the subway (5.9%), carpooling (3.5%) and lastly those that use bicycles were (2.9%).
FOOD
Brickell is full of luxurious restaurants full of authenticity and fusion of cultures. During this project, I tried to focus on small local restaurants.
Holy Moly Mac
Holy Mac is one of the few restaurants in Brickell that is local and black-owned. This restaurant is located at 100 S Biscayne Blvd Miami, Fl,33133. Due to the Pandemic, this restaurant unfortunately only takes pick up orders through telephone, Doordash, and Ubereats. Even though I could not enter the space, I enjoyed viewing the menu, and there were a variety of choices and amusing combinations. The staff was very kind, it has no reviews as of now, but it seems like a place worth giving a chance.
Bonding: Thai, Noodle, and Sushi Bar
Bonding is a Taiwanese Restaurant located at 638 S Miami Ave, Miami, Fl 33130. This is a small but modern family business. Their most popular dishes include gyoza, pad sees ew, rec curry, and Bonding Fried Rice. They had been at their original location since 12/12/12, and they are loved by the local community, with 303 reviews on google of happy customers sharing their wonderful experience.
Brickell Soul by First Miami
Brickell Soul is located at 609 Brickell Ave, Miami, Fl 33131. Brickell Soul is right next to Mary Brickell Park, and it is organized by a presbyterian church that pushes for community outreach. The area is full of food trucks open daily for breakfast, lunch, and dinner. I enjoyed the Italian street food; the menu seemed very interesting and affordable. I enjoyed seeing all the varieties and options that they provided. I would recommend checking this place out!
BUSINESSES
Brickell Psychic
Brickell Psychic is a business that helps adults and children heal through alternative practices. Various services are offered; some are physical palm, tarot cards, astrological charts, past life regression, handwriting analysis, and more. Individuals of all walks of life are welcome to understand themselves better and hopefully reach a positive outcome. Brickell Psychic is located at 640 South Miami Ave Miami, FL, 33130.
The Grand Lion Real Estate Group.
The Grand Lion Real Estate Group is located at 630 South Miami Ave #630 Miami Fl, 33130. Its mission is to provide a different experience in real estate through close contracts and personalization of services. They say that when you buy or rent a home, you have to imagine yourself investing and living in the neighborhood. They take pride in the multicultural team that can input a variety of perspectives.
PureRoast Coffee
PureRoast Coffee is a business located at 632 S Miami Ave, Miami, FL, 33130. The Coffee shop is rated 4.5 stars with 291 reviews describing their excellent coffees and pastries. Aside from having their coffee shop, PureRoast also sells their own coffee roasted beans to enjoy in the comfort of your own home. Their story started in Venezuela with a cup of coffee by their host, the coffee grower; in 1986, long before Starbucks and baristas were a thing. These Growers do not focus on quantity but rather on the quality of their coffee.
SUMMARY
Brickell is a vast Urban neighborhood filled with history, entrepreneurship, culture, and drive. This beautiful neighborhood is often compared to Manhattan, an area in New York City, but in my opinion, the atmosphere cannot be compared. One thing that Manhattan does not have is the care that goes into this city and the kind of residents Brickell has. Brickell was destined to be a city full of wealth, culture, and history from the very start. Many historical events happened in this neighborhood that helped shape Miami into what it is today. While walking through the streets of Brickell, I felt like the people were very welcoming and helped me whenever I could not find a specific location. While on this trip, I used electric scooters, which made exploring Brickell a sensational experience.
Brickell has a strong community where people here treasure family moments. For the most part, Brickell is an excellent and friendly place to live in and visit. Something concerning to me was all the construction. I feel like the area is constantly under development. More development could weaken the community in Brickell, especially when green regions are removed. The people of Brickell should push for more Parks to increase connections. Overall, I will recommend classmates and viewers visit Brickell, Miami, FL, to experience these iconic businesses and restaurants.
Citations:
1, and Anonymous. "The History of the Brickell Neighborhood in Miami." Miami Condo Investments, 10 Apr. 2021, https://www.miamicondoinvestments.com/brickell/brickell-the-history-of-miamis-manhattan.
"30 Years since the Fall of the Berlin Wall, Miami Holds onto a Piece of Its History." WLRN, https://www.wlrn.org/show/sundial/2019-11-07/30-years-since-the-fall-of-the-berlin-wall-miami-holds-onto-a-piece-of-its-history.
"About the Freedom Tower." MOAD, https://moadmdc.org/freedom-tower/about-the-freedom-tower.
"About Us." Brickell Psychic, https://brickellpsychic.com/about-us/.
"About Us." The GRAND LION REAL ESTATE GROUP, https://www.thegrandlionrealestategroup.com/aboutus.
"Bonding Miami." Bonding Thai Miami, 21 Nov. 2021, https://bondingthaimiami.com/.
"Brickell (Manhattan-of-the-South) Neighborhood in Miami, Florida (FL), 33129, 33130, 33131 Detailed Profile." Brickell (Manhattan-of-the-South) Neighborhood in Miami, Florida (FL), 33129, 33130, 33131 Subdivision Profile – Real Estate, Apartments, Condos, Homes, Community, Population, Jobs, Income, Streets, https://www.city-data.com/neighborhood/Brickell-Miami-FL.html.
"Brickell Avenue Neighborhood." Miami History Blog, 12 Mar. 2022, https://miami-history.com/brickell-avenue-neighborhood/.
"Brickell Demographics and Statistics." Niche, https://www.niche.com/places-to-live/n/brickell-miami-fl/residents/.
"Brickell Soul." First Miami Presbyterian Church, 5 Apr. 2022, https://www.firstmiami.org/brickellsoul/.
"Brickell, Miami ." Niche, https://www.niche.com/.
"Holy Moly Mac and Cheese – Miami, FL." Yelp, https://www.yelp.com/biz/holy-moly-mac-and-cheese-miami-4.
Mary Brickell Park – Historicpreservationmiami.com. http://www.historicpreservationmiami.com/pdfs/Mary_Brickell_Pk_Dsg_Rpt_FINAL.pdf.
"Mary Brickell Park." Clio, https://www.theclio.com/entry/41166.
"Miami Circle Park." Foursquare, https://foursquare.com/v/miami-circle-park/4d6538ef897a224bdece29cf.
Park, Bayfront, and Zoom. Bayfront Park Management Trust, https://bayfrontparkmiami.com/.
"The Signature Segment of the Berlin Wall – National Museum of American Diplomacy." U.S. Department of State, U.S. Department of State, 10 Sept. 2021, https://diplomacy.state.gov/exhibits/the-signature-segment-of-the-berlin-wall/.
"The Story." Puroast Coffee, 15 Jan. 2021, https://puroast.com/the-story/.
Torch of Friendship – Miami Attractions and Sights, https://americanbutler.ru/en/tours/city/miami/what-to-see/miami-attractions/torch-of-friendship.